We planned to go to the pool yesterday but the we woke up to nasty wet weather. We knew we wanted to get out of the house and take Caroline to do something fun so we decided to check out Locomotion. I had heard good things about it and I knew they had other things to play with besides jumpy houses.
They have a ball pit for ages 3 and under and Caroline loved it.
They also have a dress up area and a "mini-town" with a grocery store, vet's office, kitchen, and auto shop.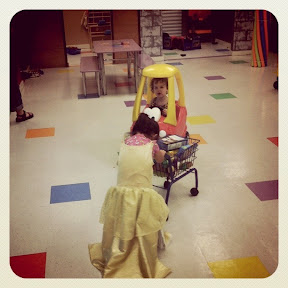 She even got on some of the jumpy thing and loved them (which is rare).
We will definitely be going back.
I forgot my real camera so you have to settle for iPhone pics today.
We're planning on swimming somewhere today (weather permitting).